Redeem 16 free sachets with every box of Viartril®-S sachets purchased (worth $45*)!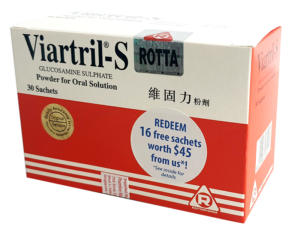 Here's how:
Purchase Viartril®-S sachet with the above promotional sticker on it.
Keep the box(es) as you must present them during redemption.
Call or whatsapp us at 8807 1665 to arrange for the collection day, time and place.
Our office is located at: 705 Sims Drive #02-07, Shun Li Industrial Complex, Singapore 387384
Redemption hours: Monday – Friday, 9.00am – 5.30pm (please avoid lunch hour between 12.30 – 2.00pm)
Redemption period: by 30 June 2022
Remember to bring along your Viartril®-S box(es) (with the above promotional sticker) for redemption. Each box entitles you 16 free sachets.
Like us on facebook!